About Ichinen-zaka and Ninen-zaka
The history of Ichinen-zaka and Ninen-zaka
Why is it called Nien-zaka, 2 year slope?
1. It was named when this slope was maintained in year of 807.
2. Because this slope is located just down the San-nen zaka, 3year slope.
3 year slope has a different meaning.
" San" means give a birth, "Nen" means Nene who was a wife of Hideyoshi Toyotomi, the feudal lord and chief of imperial minister who completed the 16th century unification of Japan. It is well known that Nene lived in Kodaiji temple until her death in 1624. It is said that Nene walked up the slopes to Kiyomizu temple to pray for the birth of a child.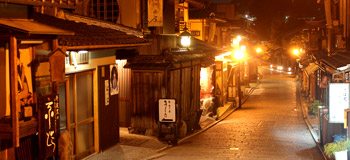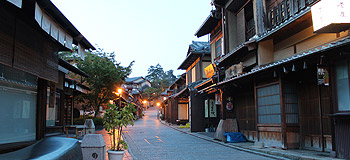 There is a myth that if you fall down in Ninen-zaka, you will die in 2 years.
It is a message for people to take special care not to fall down on stone steps and slope. This area is designate as a traditional architectures preservation district.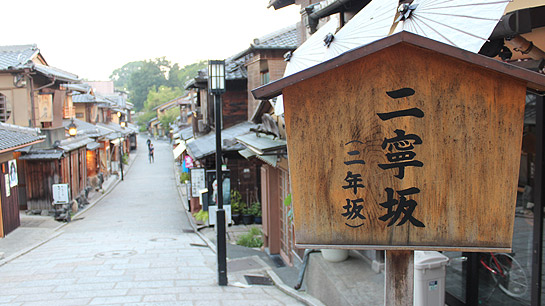 Temporary residence mark of Yumeji Takehisa
Yumeji Takehisa is one of the most famous leading poets and painters during the Taisho era. In 1914, he met Hikono Kasai and they run into lifelong love. However Hikono's father did not approve their relationship because Hikono was the only child who had to take over her family business in Tokyo. Their relationship finally tied and they spent short time but fulfilling time here in Kyoto.

Shops and Restaurants
Shops and Restaurants
List of Shops and Restaurants
About "Koto ni Moeru Kai"
About "Koto ni Moeru Kai"
What we do
"Koto ni Moeru kai" was established by a group of people, mostly the owners of shops located in Ninen-zaka/Ichinen-zaka or people living neighborhood,
who passionately love and enthusiastic about protecting and improving Ninen-zaka and Ichinen-zaka
Major tourist spots and historic sites of Kyoto such as Chion-in temple, Yasaka shrine, Maruyama Park, Kodaiji temple, and slopes leading to Kiyomizu temple from Yasaka pagoda are located foot of Higashiyama.
Its traditional architectures and beautiful stone paved road are natured in centuries of history that Ninen-zaka district eared high cultural value in the world, while Kyoto is being a city of "international tourism and culture".
But this historical district is not only sightseeing spots but also a commercial area and a living place for people in neighbor.
That means we cannot stay only protecting the ancient atmosphere but also we have to "change" and "grow" together as visitors and their needs changes time to time.
With this thought, we strongly believe seeking how Ninen-zaka should be not only in Kyoto Japan, but in the world is very important while protecting and transmitting our thoughts and activities to posterity at the same time.
This is why we established "Koto ni Moeru Kai".
Access
By Bus
Get off "Kiyomizumichi" bus stop and walk 5min
【From JR Kyoto Station】
   Central Exit : Take #206 from D2 bus stop
   [Takes 15mins] Get off at "Kiyomizu michi" bus stop
【From Hankyu Kawaramachi】
   Take #207 bus goes to east on Shijyo Street [Takes 5min]
   Get off at "Kiyomizumichi" bus stop
【From Keihan Gion Shijyo station】
   Take #207 bus goes to east on Shijyo Street
   Get off at "Kiyomizumichi" bus stop

By Taxi
Ask driver to take you to "in front of Kyoyamato restaurant" or "Ninenzaka below Kiyomizu temple".
By Car
Set the navigation system by phone number of Kodaiji temple at 075-561-9966
 ・20 min from South interchange of Meishin highway
 ・15 min from Ginkaku temple
 ・20 min from East interchange of Meishin highway
 ・15 min from Ginkaku temple
 ・45 min from Arashiyama
 ・3 min from Gion
 ・30min from Ginkakuji
 ・15min from Kyoto station